Silverbax are a pair of patented moving straps that are ergonomically designed to encourage proper lifting techniques and reduce back injuries due to heavy and repetitive lifting. Versus the original Forearm Forklift that is 9'4" long and contains 3 loops on each end, this new and improved Silverbax is 10' long and contains 4 loops at each strap's end. The 8" longer straps and 4th loop allows you to carry extra-small, sm, med, lg, XL and XXL furnishings with ease! Silverbax also employs leverage which makes the items you carry seem MUCH lighter. This makes it easier to go up and down a flight of stairs and to turn corners. Silverbax saves floors from scratches, dents, scuffs and scrapes that dollies and hand trucks leave behind. Silverbax are adjustable up to 64" and are rated up to 800 lbs.
U.S. Patent Numbers: 7,731,069
Canadian Patent Number: CA 2,568,418
Mexican Patent Number: 289120
German Utility Patent Number: 20 2007 019 057.3
U.K. Patent Number: GB2443180
Australian Patent Number: 2006241388
Spanish Patent Number: 2332166
France: Patent Pending
Japan: Patent Pending
China: Patent Pending
Hong Kong: Patent Pending
ROC (Taiwan): Patent Pending

Click HERE for its sell sheet
product specifications
part # / item # / product #:
SLVRBX
UPC barcode:
811938009702
length of each individual strap:
10 ft. ( 3.04 m )
width of each individual strap:
3 in. ( 7.62 cm )
weight of both straps:
1 lbs. ( 0.45 kg )
brand
This retail pack is durable & heat sealed. Only requires a mailing label stuck to it, so no repacking costs whether sold in your store or website!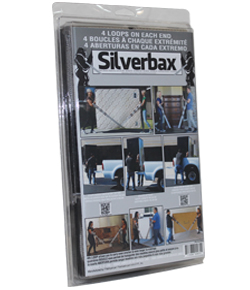 part # / item # / product #:
SLVRBX
contents:
2 straps ( 1 pair )
dimensions:
1.87 in. deep x 7.5 in. wide x 12.37 in. tall
( 4.74 x 19.05 x 31.41 cm )
weight:
1.2 lbs. ( 0.54 kg )
insert available in
the following languages:
English, French and Spanish
case
part # / item # / product #:
SLVRBX6
contents:
6 units
dimensions:
24 in. deep x 8 in. wide x 6 in. tall
( 60.96 x 20.32 x 15.24 cm )
weight:
7.9 lbs. ( 3.58 kg )
part # / item # / product #:
SLVRBX12
contents:
12 units
dimensions:
24 in. deep x 12 in. wide x 8 in. tall
( 60.96 x 30.48 x 20.32 cm )
weight:
15.4 lbs. ( 6.98 kg )
part # / item # / product #:
SLVRBX20
contents:
20 units
dimensions:
24 in. deep x 15 in. wide x 10 in. tall
( 60.96 x 38.10 x 25.40 cm )
weight:
25.5 lbs. ( 11.56 kg )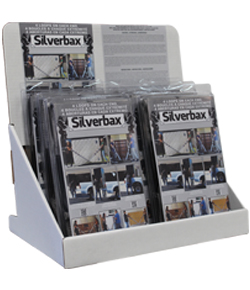 display name:
Silverbax counter-top display
part # / item # / product #:
SLVRBXD
holds up to:
6 units
shipping dimensions:
17 in. deep x 12 in. wide x 10 in. tall
( 43.18 x 30.48 x 25.40 cm )
shipping weight:
8.8 lbs. ( 3.99 kg )