Self Liquidating Displays
Our cardboard displays themselves are FREE for our brick-and-mortar resellers, when requested and ordered loaded.
This same display has 10+ diffrent configurations. Many of our packages are the same height & width and some of this display's partitions can be moved, so buyers can pick what FF branded products they want in each cubbyhole.
Different Self Liquidating Display Details
FFSLD1
Dimensions built:
44.75 in. tall x 20.95 in. wide x 9.25 in. deep
( 113.67 x 53.21 x 23.50 cm )
Shipping dimensions:
20.5 in. tall x 10.5 in. wide x 46.63 in. deep
( 50.8 x 25.4 x 116.84 cm )
Shipping weight:
58.5 lbs. ( 25.6 kg )
This display holds:
| Qty. | Product Name | Part #/Item # /Product # |
| --- | --- | --- |
| 8 | Forearm Forklift Lifting Straps | L74995CN |
| 5 | Box Strap | FFBS |
| 9 | Extension Strap | EXT |
| 5 | Mattress Mover | FFMM |
| 3 | Forearm Forklift Harness Value Pack | FFHVP |
| 4 | Stretch Wrap | FFMUSSW |
| 3 | Full Size Moving Blanket | FFMB |
FFSLD2
Dimensions built:
44.75 in. tall x 20.95 in. wide x 9.25 in. deep
( 113.67 x 53.21 x 23.50 cm )
Shipping dimensions:
20.5 in. tall x 10.5 in. wide x 46.63 in. deep
( 50.8 x 25.4 x 116.84 cm )
Shipping weight:
59 lbs. ( 25.9 kg )
This display holds:
| Qty. | Product Name | Part #/Item # /Product # |
| --- | --- | --- |
| 8 | Forearm Forklift Lifting Straps | L74995CN |
| 5 | Box Strap | FFBS |
| 9 | Extension Strap | EXT |
| 5 | Mattress Mover | FFMM |
| 6 | Forearm Forklift Harness Value Pack | FFHVP |
| 3 | Full Size Moving Blanket | FFMB |
FFSLD3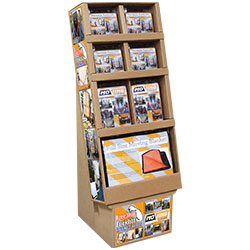 Dimensions built:
44.75 in. tall x 20.95 in. wide x 9.25 in. deep
( 113.67 x 53.21 x 23.50 cm )
Shipping dimensions:
20.5 in. tall x 10.5 in. wide x 46.63 in. deep
( 50.8 x 25.4 x 116.84 cm )
Shipping weight:
57.5 lbs. ( 26.5 kg )
This display holds:
| Qty. | Product Name | Part #/Item # /Product # |
| --- | --- | --- |
| 16 | Forearm Forklift Lifting Straps | L74995CN |
| 6 | Forearm Forklift Harness Value Pack | FFHVP |
| 3 | Full Size Moving Blanket | FFMB |
FFSLD4
Dimensions built:
44.75 in. tall x 20.95 in. wide x 9.25 in. deep
( 113.67 x 53.21 x 23.50 cm )
Shipping dimensions:
20.5 in. tall x 10.5 in. wide x 46.63 in. deep
( 50.8 x 25.4 x 116.84 cm )
Shipping weight:
56.5 lbs. ( 26.1 kg )
This display holds:
| Qty. | Product Name | Part #/Item # /Product # |
| --- | --- | --- |
| 16 | Forearm Forklift Lifting Straps | L74995CN |
| 3 | Forearm Forklift Harness Value Pack | FFHVP |
| 4 | Stretch Wrap | FFMUSSW |
| 3 | Full Size Moving Blanket | FFMB |
FFSLD5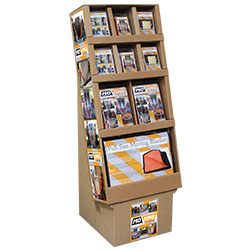 Dimensions built:
44.75 in. tall x 20.95 in. wide x 9.25 in. deep
( 113.67 x 53.21 x 23.50 cm )
Shipping dimensions:
20.5 in. tall x 10.5 in. wide x 46.63 in. deep
( 50.8 x 25.4 x 116.84 cm )
Shipping weight:
55 lbs. ( 25.4 kg )
This display holds:
| Qty. | Product Name | Part #/Item # /Product # |
| --- | --- | --- |
| 10 | Box Strap | FFBS |
| 18 | Extension Strap | EXT |
| 10 | Mattress Mover | FFMM |
| 6 | Forearm Forklift Harness Value Pack | FFHVP |
| 3 | Full Size Moving Blanket | FFMB |
FFSLD6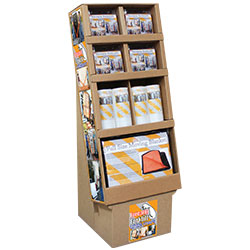 Dimensions built:
44.75 in. tall x 20.95 in. wide x 9.25 in. deep
( 113.67 x 53.21 x 23.50 cm )
Shipping dimensions:
20.5 in. tall x 10.5 in. wide x 46.63 in. deep
( 50.8 x 25.4 x 116.84 cm )
Shipping weight:
55.5 lbs. ( 25.6 kg )
This display holds:
| Qty. | Product Name | Part #/Item # /Product # |
| --- | --- | --- |
| 16 | Forearm Forklift Lifting Straps | L74995CN |
| 8 | Stretch Wrap | FFMUSSW |
| 3 | Full Size Moving Blanket | FFMB |
FFSLD7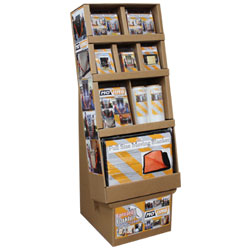 Dimensions built:
44.75 in. tall x 20.95 in. wide x 9.25 in. deep
( 113.67 x 53.21 x 23.50 cm )
Shipping dimensions:
20.5 in. tall x 10.5 in. wide x 46.63 in. deep
( 50.8 x 25.4 x 116.84 cm )
Shipping weight:
55.5 lbs. ( 25.6 kg )
This display holds:
| Qty. | Product Name | Part #/Item # /Product # |
| --- | --- | --- |
| 8 | Forearm Forklift Lifting Straps | L74995CN |
| 5 | Truck Door Pull Down Strap | FFTDPDS |
| 9 | Extension Strap | EXT |
| 5 | Mattress Mover | FFMM |
| 3 | Forearm Forklift Harness Value Pack | FFHVP |
| 4 | Stretch Wrap | FFMUSSW |
| 3 | Full Size Moving Blanket | FFMB |
FFSLD8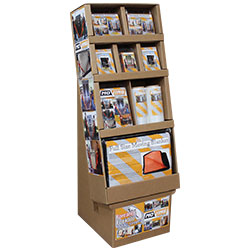 Dimensions built:
44.75 in. tall x 20.95 in. wide x 9.25 in. deep
( 113.67 x 53.21 x 23.50 cm )
Shipping dimensions:
20.5 in. tall x 10.5 in. wide x 46.63 in. deep
( 50.8 x 25.4 x 116.84 cm )
Shipping weight:
55.5 lbs. ( 25.6 kg )
This display holds:
| Qty. | Product Name | Part #/Item # /Product # |
| --- | --- | --- |
| 8 | Forearm Forklift Lifting Straps | L74995CN |
| 10 | Truck Door Pull Down Strap | FFTDPDS |
| 9 | Extension Strap | EXT |
| 3 | Forearm Forklift Harness Value Pack | FFHVP |
| 4 | Stretch Wrap | FFMUSSW |
| 3 | Full Size Moving Blanket | FFMB |
FFSLD9-AllMhvp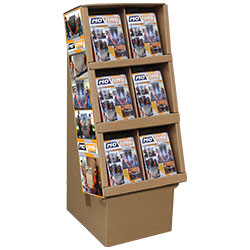 Dimensions built:
37.5 in. tall x 20.95 in. wide x 9.25 in. deep
( 95.25 x 53.21 x 23.50 cm )
Shipping dimensions:
20.5 in. tall x 10.5 in. wide x 46.63 in. deep
( 50.8 x 25.4 x 116.84 cm )
Shipping weight:
67.6 lbs. ( 30.7 kg )
This display holds:
| Qty. | Product Name | Part #/Item # /Product # |
| --- | --- | --- |
| 18 | Forearm Forklift Harness Value Pack | FFHVP |
FFSLD10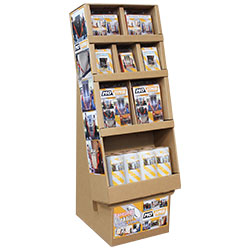 Dimensions built:
44.75 in. tall x 20.95 in. wide x 9.25 in. deep
( 113.67 x 53.21 x 23.50 cm )
Shipping dimensions:
20.5 in. tall x 10.5 in. wide x 46.63 in. deep
( 50.8 x 25.4 x 116.84 cm )
Shipping weight:
62.4 lbs. ( 27.4 kg )
This display holds:
| Qty. | Product Name | Part #/Item # /Product # |
| --- | --- | --- |
| 8 | Forearm Forklift Lifting Straps | L74995CN |
| 10 | Truck Door Pull Down Strap | FFTDPDS |
| 9 | Extension Strap | EXT |
| 6 | Forearm Forklift Harness Value Pack | FFHVP |
| 8 | Stretch Wrap | FFMUSSW |