We created these straps for painters. This adjustable painters' prep tool is for moving furniture and appliances of different shapes and sizes, before and after painting a room and / or area. These straps avoid leaving scuffed and/or scraped floors. Rated up to 800 lbs. / 362 kg.
U.S. Patent Numbers: 6,039,376 and 7,731,069
Canadian Patent Number: CA 2,568,418
Mexican Patent Number: 289120
German Utility Patent Number: 20 2007 019 057.3
U.K. Patent Number: GB2443180
Australian Patent Number: 2006241388
Spanish Patent Number: 2332166
France: Patent Pending
Japan: Patent Pending
China: Patent Pending
Hong Kong: Patent Pending
ROC (Taiwan): Patent Pending

Click HERE for its sell sheet
The orange straps in the videos below are and work exactly the same as our Painter's Moving Straps.
product specifications
part # / item # / product #:
L74995PMS
UPC barcode:
811938007777
length of each individual strap:
9 ft. 4 in. ( 284.48 cm )
width of each individual strap:
3 in. ( 7.62 cm )
weight of both straps:
1.2 lbs. ( 0.54 kg )
brand
This retail pack is durable & heat sealed. Only requires a mailing label stuck to it, so no repacking costs whether sold in your store or website!
part # / item # / product #:
L74995PMS
contents:
2 straps ( 1 pair )
dimensions:
2.25 in. deep x 8 in. wide x 7.87 in. tall
( 5.71 x 20.32 x 19.98 cm )
weight:
1.3 lbs. ( 0.58 kg )
insert translations available in
the following languages:
English and Spanish
case
part # / item # / product #:
L74995PMS4
contents:
4 units
dimensions:
10 in. deep x 8 in. wide x 8 in. tall
( 25.40 x 20.32 x 20.32 cm )
weight with content included:
5.7 lbs. ( 2.58 kg )
master case ( no inner case )

contents:
12 pairs of Painter's Moving Straps
( in clamshell )
dimensions:
23.5 in. deep x 14.75 in. wide x 4.75 in. tall
( 59.69 x 37.46 x 12.06 cm )
weight of master case with 12 pairs:
16.5 lbs. ( 7.48 kg )
private labeling available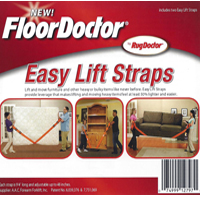 in reshipper box
part # / item # / product #:
L74995PMSR
contents:
2 straps ( 1 pair ) and
one insert and easy to use instructions
dimensions:
7 in. deep x 7 in. wide x 3 in. tall
( 17.78 x 17.78 x 7.62 cm )
weight:
1.4 lbs. ( 0.63 kg )
insert transaltion available in the following languages:
English and Spanish
master case ( no inner case )
contents:
27 pairs of Painter's Moving Straps
( in reshipper box )
dimensions:
22 in. deep x 22 in. wide x 12 in. tall
( 55.88 x 55.88 x 30.48 cm )
weight of master case with 27 pairs:
40.8 lbs. ( 18.50 kg )