This specific pack comes with the complete set which is both harnesses and a pair of center straps that are adjustable. This amazing product is for carrying items of all sizes. It's especially great for carrying office partitions, desks, lockers, safes, woodworking machines, hot tubs, mattresses, furniture, appliances, HVAC units, cast iron bath tubs, etc. MovXing Cradle encourages proper lifting techniques and employs leverage which makes the items being carried seem MUCH lighter. Saves floors from scratches, dents, scuffs and scrapes that dollies and hand trucks can leave behind. Reduces back injuries due to heavy and repetitive lifting.
Click HERE for its sell sheet
product specifications
| | |
| --- | --- |
| part # / item # / product #: | FFMCVP |
| UPC barcode: | 811938006190 |
| width of harness' strap: | 3 in. ( 7.62 cm ) |
| weight of full set without retail packaging: | 2.7 lbs. ( 1.22 kg ) |
| brand | |
This retail pack is durable & heat sealed. Only requires a mailing label stuck to it, so no repacking costs whether sold in your store or website!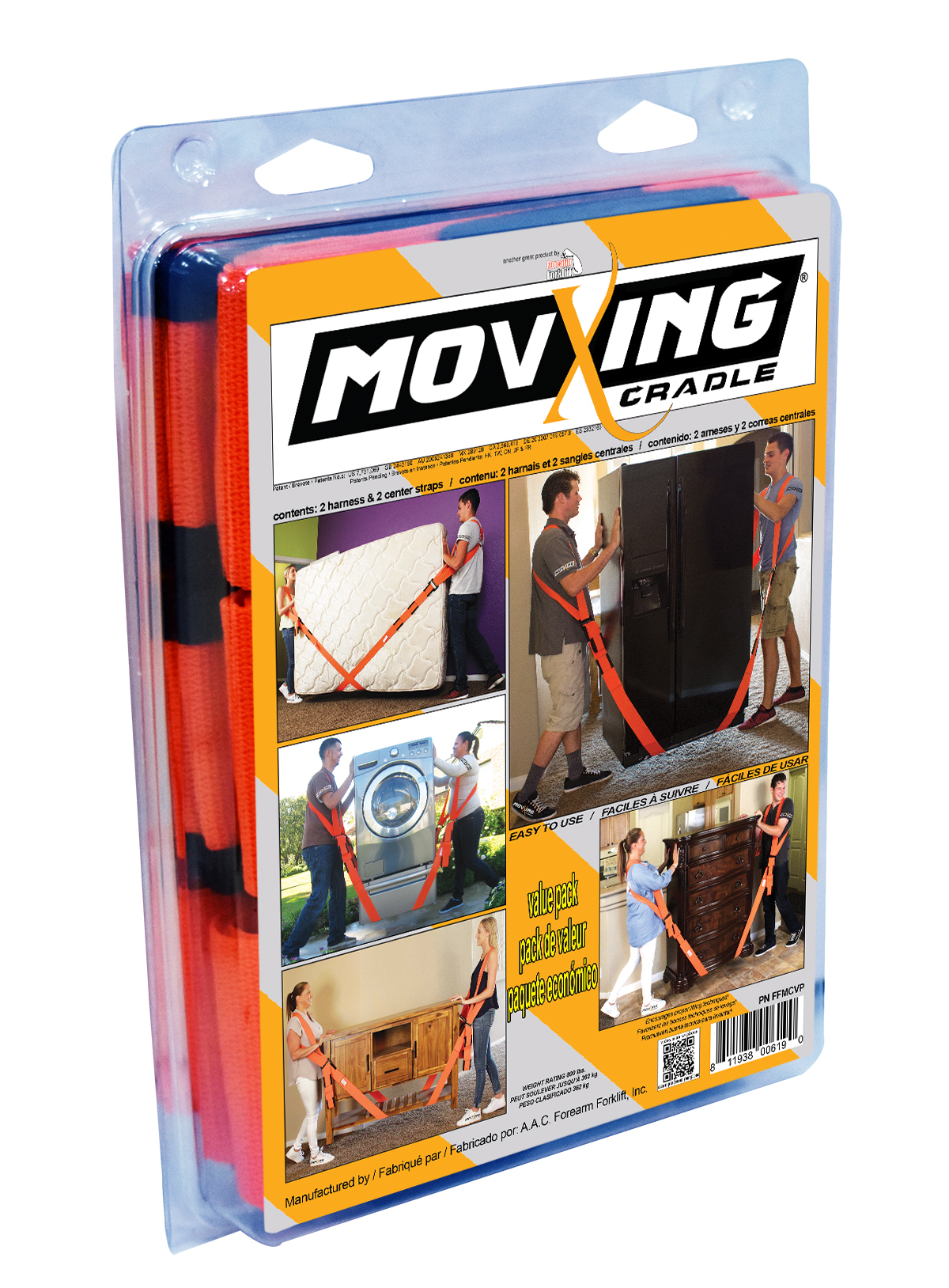 part # / item # / product #:
FFMCVP
contents:
2 harnesses + 2 adjustable center straps
dimensions:
2.25 in. deep x 8.25 in. wide x 11.62 in. tall
( 5.71 x 20.95 x 29.51 cm )
weight:
2.9 lbs. ( 1.31 kg )
insert available in the following languages:
English, French and Spanish

case

part # / item # / product #:
FFMCVP4
contents:
4 units
dimensions:
12 in. deep x 10 in. wide x 8 in. tall
( 30.48 x 25.40 x 20.32 cm )
weight:
11.8 lbs. ( 5.35 kg )

part # / item # / product #:
FFMCVP6
contents:
6 units
dimensions:
16 in. deep x 12 in. wide x 9 in. tall
( 40.64 x 30.48 x 22.86 cm )
weight:
18.5 lbs. ( 8.39 kg )

part # / item # / product #:
FFMCVP12
contents:
12 units
dimensions:
22 in. deep x 16 in. wide x 10 in. tall
( 55.88 x 40.64 x 25.40 cm )
weight:
36 lbs. ( 16.32 kg )

display name:
MovXing Cradle Value Pack counter-top display
part # / item # / product #:
FFMCVPD
holds up to:
6 units in clamshell
shipping dimensions:
box: 17 in. deep x 12 in. wide x 10 in. tall
( 43.18 x 30.48 x 25.40 )


shipping weight:
box: 19.5 lbs. ( 8.84 kg )