This blanket is great for having enough safety colored "blaze" orange in states that require more or turn it on its black colored side for more camo. It's even great for keeping you warm when your jacket isn't enough, just wrap it around you! It's individually packed in a durable poly bag that zippers open and closed so that you can store the blanket. The bag keeps it from getting wetter and / or dirtier than it has to. The blanket also provides instant padding for sitting comfortably in the woods, at a park, the shore line, a jetty, etc. This furniture pad has woven construction on one side ( "blaze" orange ) for heavy-duty use and a non-woven construction on the other side ( black ) which is better for shielding delicate items. Use it to even protect your hunting or fishing gear in the elements. Also used to protect a pick up truck's bed, ATV's, motorcycles, etc. This product is barcoded.
Click HERE for its sell sheet
Product specifications
| | |
| --- | --- |
| Part # / Item # / Product #: | FFHFRB |
| UPC Barcode: | 811938009559 |
| Size: | 72 in. x 80 in. ( 182.8 cm x 203.2 cm ) |
| Weight of blanket alone: | 3.5 lbs. ( 1.59 kg ) |
| Multi-colored: | "blaze" orange and black |
| Brand | |
This retail pack is zippered shut. Only requires a mailing label stuck to it, so no repacking costs whether sold in your store or website!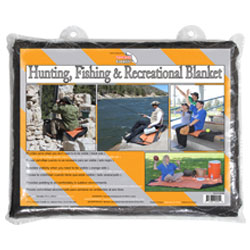 Part # / Item # / Product #:
FFHFRB
Contents:
1 Blanket in a clear, peggable retail bag with a zipper.
Dimensions:
15 in. tall x 18.5 in. wide x 3 in. deep
( 38.10 x 46.99 x 7.62 cm )
Weight with packaging:
4.5 lbs. ( 2.04 kg )
Insert available in the following languages:
English, French and Spanish
Case
Part # / Item # / Product #:
FFHFRB3
Contents:
3 units
Dimensions:
15 in. tall x 20 in. wide x 12 in. deep
( 38.10 x 50.80 x 30.48 cm )
Weight with contents included:
14.5 lbs. ( 6.6 kg )
Part # / Item # / Product #:
FFHFRB6
Contents:
6 units
Dimensions:
15 in. tall x 20 in. wide x 15 in. deep
( 38.10 x 50.80 x 38.10 cm )
Weight with contents included:
25 lbs. ( 11.34 kg )
Part # / Item # / Product #:
FFHFRB8
Contents:
8 units
Dimensions:
14 in. tall x 20 in. wide x 18 in. deep
( 35.56 x 50.80 x 45.72 cm )
Weight with contents included:
34 lbs. ( 15.42 kg )

Part # / Item # / Product #:
FFHFRB10
Contents:
10 units
Dimensions:
14 in. tall x 24 in. wide x 18 in. deep
( 35.56 x 60.96 x 45.72 cm )
Weight with contents included:
42 lbs. ( 19.1 kg )

Display name:
Hunting, Fishing & Recreational Blanket Floor Standing Display
Part # / Item # / Product #:
FFHFRBFlrStdDis
Holds up to:
11 units ( 5 in tray & 6 in inner cavity )
Shipping dimensions:
18 in. tall x 10 in. wide x 10 in. deep
( 45.72 x 25.40 x 25.40 cm )
Shipping weight:
47.5 lbs. ( 21.55 kg )

Product can be hooked on a peg or laid flat. Gondola not included.

Address

Country:

USA

City:

Baldwin Park

State:

California

Phone:

(888) 334-1133

(626) 962-2990

Email:

info@StrapsRUs.com