Forearm Forklift Lifting Straps in the color pink with the breast cancer awareness logo because our company has donated $10,000/year more than a couple times to support research for a cure. These sell very well at retail during October because Oct is breast cancer awareness month. They're the same design as the orange Forearm Forklift. Rated up to 800 lbs. / 362 kg.
U.S. Patent Numbers: 6,039,376 and 7,731,069
Canadian Patent Number: CA 2,568,418
Mexican Patent Number: 289120
German Utility Patent Number: 20 2007 019 057.3
U.K. Patent Number: GB2443180
Australian Patent Number: 2006241388
Spanish Patent Number: 2332166
France: Patent Pending
Japan: Patent Pending
China: Patent Pending
Hong Kong: Patent Pending
ROC (Taiwan): Patent Pending

Click HERE for its sell sheet
The orange straps in the videos below are and work exactly the same as our Breast Cancer Awareness pink straps.
product specifications
part # / item # / product #:
L74995P
UPC barcode:
811938007722
length of strap:
9 ft. 4 in. ( 284.48 cm )
width of strap:
3 in. ( 7.62 cm )
weight of both straps:
0.8 lbs. ( 0.36 kg )
brand
This retail pack is durable & heat sealed. Only requires a mailing label stuck to it, so no repacking costs whether sold in your store or website!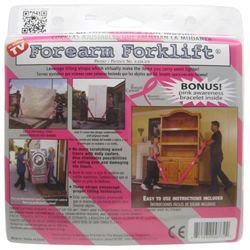 part # / item # / product #:
L74995P
contents:
2 straps ( 1 pair )
dimensions:
2.25 in. deep x 8 in. wide x 7.87 in. tall
( 5.71 x 20.32 x 19.98 cm )
weight:
1 lbs. ( 0.45 kg )
insert translation available in the following languages:
English, Spanish and Japanese
case
part # / item # / product #:
L74995P4
contents:
4 units
dimensions:
10 in. deep x 8 in. wide x 8 in. tall
( 25.40 x 20.32 x 20.32 cm )
weight with content included:
4.4 lbs. ( 1.99 kg )
master case ( no inner case )

contents:
12 pairs of Forearm Forklift Lifting Straps
( in the color pink )
dimensions:
23.5 in. deep x 14.75 in. wide x 4.75 in. tall
( 59.69 x 37.46 x 12.06 cm )
weight of master case with 12 pairs:
12.9 lbs. ( 5.85 kg )
private labeling available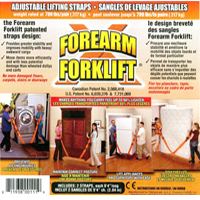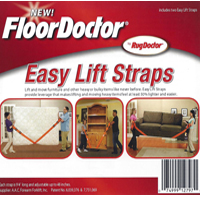 in reshipper box
part # / item # / product #:
L74995PR
contents:
2 straps ( 1 pair )
one insert and easy to use instructions
dimensions:
7 in. deep x 7 in. wide x 3 in. tall
( 17.78 x 17.78 x 7.62 cm )
weight:
1.1 lbs. ( 0.49 kg )
insert translation available in the following languages:
English, Spanish and Japanese
master case ( no inner case )
contents:
27 pairs of Forearm Forklift Lifting Straps
( in the color pink )
dimensions:
22 in. deep x 22 in. wide x 12 in. tall
( 55.88 x 55.88 x 30.48 cm )
weight of master case with 27 pairs:
32.9 lbs. ( 14.92 kg )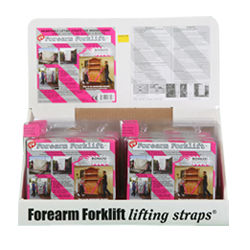 display name:
Forearm Forklift counter-top display
part # / item # / product #:
L74995D
holds up to:
6 units in clamshell
shipping dimensions:
9.87 in. deep x 9.63 in. wide x 17.5 in. tall
( 25.06 x 24.46 x 44.45 cm )
shipping weight:
7.4 lbs. ( 3.35 kg )
display name:
Forearm Forklift floor standing display
part # / item # / product #:
FlrStdgBoxW15
holds up to:
15 units in clamshell
shipping dimensions:
37.75 in. deep x 23.5 in. wide x 4 in. tall
( 95.88 x 59.69 x 10.16 cm )
shipping weight:
22.7 lbs. ( 10.29 kg )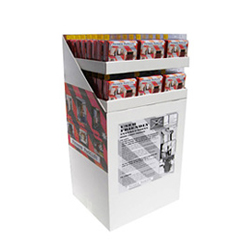 display name:
Forearm Forklift quarter pallet display
part # / item # / product #:
L74995QPD
holds up to:
27 or 54 units in clamshell ( 48 units as shown )
shipping dimensions:
21.87 in. deep x 25.37 in. wide x 48 in. tall
( 55.55 x 64.44 x 121.92 cm )
shipping weight of 27 units:
37.4 lbs. ( 16.96 kg )
shipping weight of 54 units:
64.6 lbs. ( 29.30 kg )